Table of Contents
Imagine two powerful marketing tactics that launch your company's website to the cusp of search engines. If done right, SEO and SEM can increase qualified leads (aka customers) for your business.
You might feel that we're about to dive into a complex subject; however, it will be less challenging once you understand what they are, what makes them different, and how they work together. SEO and SEM are part of the same family but with various aspects; they play a massive role in any digital marketing strategy.
There are about 66,000 searches per second on Google, according to Internet Live Stats. 66000 per second! (We'll let that sink in for a bit) SEO and SEM make your business's website appear in front of your target audience (ideal customer) at the right time.
Knowing your potential buyer (aka your target customer) is essential to making SEO and SEM strategies work. You'll understand their search intent, the words, and phrases they use to find products and services similar to yours, what type of content they prefer, their preferred communication channel, etc.
Let's dive into the secrets of SEO and SEM to scale your business.
What is the difference between SEO and SEM?
Ok! Let's start by narrowing down those acronyms.
SEO stands for search engine optimization, and SEM stands for search engine marketing.
So, what is a search engine?
A search engine is a software program that helps people find the information they want with keywords or phrases. Google is a search engine, for example, the most popular to date.
The main difference between SEO and SEM is if you pay to get your content noticed – with SEM, you set a budget and a price for each click that users make on your ads.
SEO is about acquiring, monitoring, and analyzing unpaid (organic) patterns. For example, let's say that your website has a blog or has been optimized with keywords and phrases that your audience uses to find your products or services. Once somebody does a search, the search engine matches those words and displays similar content on the results page.
Example of SEO in search engine results page:
Example of SEM in a search engine result page (notice the "Ad" word before each website):
Now, your content might not immediately rank on the first page on the first spot of the result page. The algorithm has a set of variables to determine which content should rank first; we'll discuss them later in this blog post.
Can you rank first using only organic (unpaid) methods?
Yes, but that process takes time, and you must commit to crafting and publishing quality content regularly. SEM makes your content stand out above the rest because you're paying to get it noticed. However, considering SEM is a bidding process, your content competes against others targeting similar keywords. The key is to have a bidding strategy allowing you to stand above your competition and get in front of your target audience.
How does SEO work?
Content marketers craft content aligned with search intent and consider some variables that algorithms look for – here are some of them:
Quality: this tells search engines that users spend time on your content, sharing, commenting, downloading resources, etc.
User Experience: it refers to your website's content accessibility. Can users find what they're looking for quickly? Is your site easy to navigate?
Link Patterns: are you building relationships outside digital platforms to get inbound links? Are other high-ranking sites linking to your page? Are you connecting to other pages besides yours?
How does SEM work?
Search engine marketing focuses on creating paid campaigns that make your content visible to your audience. Therefore, they require careful planning, testing, and optimizing as you go.
Here are some of the variables you must consider when launching your search engine marketing strategy:
The use of action-driven copy with selective keywords and phrases
Having a budget that will allow you to complete your advertising goals
Targeting your potential customers effectively
Ad design that includes texts, links, meta descriptions, etc.
The downside of SEM is that you do require knowledge of additional tools like Google AdSense and Analytics to improve your ads performance.
Do SEO and SEM complement each other?
The short answer is yes; they do complement each other. However, some businesses create SEM campaigns to showcase their website quickly but having an SEO and SEM strategy in place will benefit your business visibility, engagement, and conversions in the long term.
You'll top your competition because you'll have search engines ranking your unpaid content higher while displaying your ads upfront on the search engine result page (SERP).
It's a power duo you can't ignore.
Let's review the additional benefits that SEO and SEM can bring to your business.
The benefits of using SEO and SEM for your business
You now know the difference between SEO and SEM; you've seen how they work and complement each other. Now, let's lay out specific benefits for your business.
They increase your brand's visibility – your business has a higher potential of becoming the first solution for potential customers.
Increase traffic – send users to your website, social media channels, blog, landing pages, etc.
See results faster – if you have a landing page or website, you'll increase your chances of conversions, meaning more e-book downloads, event registrations, free consultations, etc.
Power up your keyword presence – target the exact keywords to bolster your keyword presence on SERPs. Your website's ranking and visibility will grow exponentially.
Optimize your content strategy – SEM campaigns can fuel your SEO results, and SEO strategies can boost SEM campaigns. This means more eyes on your business and more traffic to your content.
SEO and SEM best practices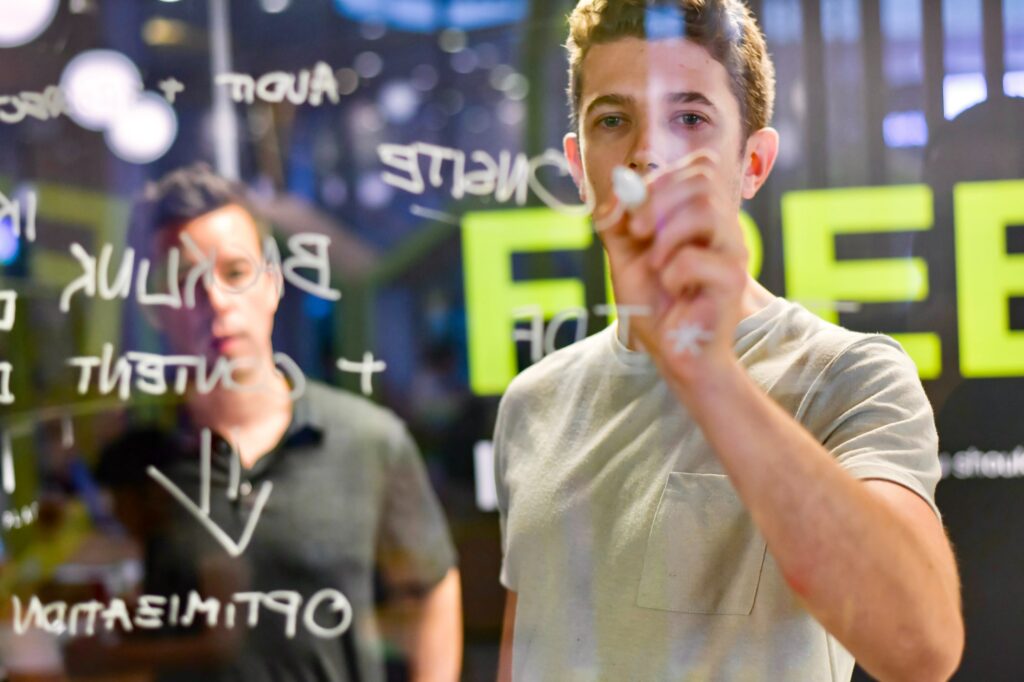 Although SEO and SEM work together perfectly, they require different actions.
Let's review the SEO best practices first to learn how you can optimize your content for search engines and your audience.
SEO
Use compelling titles and headings
Create content based on search intent
Write strong meta descriptions
Optimize all images with alt text and image resolution
Include internal links
Provide a user-friendly design
Optimize your page's speed
Use navigation menus and sitemaps
Link to other websites
SEM
Target the right keywords (high-search-intent keywords)
Understand your buyer's journey to provide value accordingly
Align your campaign and business goals
Adopt a conversion mindset and avoid the "more clicks" mentality
Personalize your ad copies using customer data
Make sure that your ads and landing pages tell a cohesive story
Follow conversion-centered designed principles
Keep a 1:1 ratio of ads to landing pages
Test and optimize constantly to improve performance
Well, there you have it! A straightforward approach to SEO and SEM. We hope you now have a clear and general idea of what they are and how they can help your business. If you need support, don't hesitate to contact us. Also, please comment and share if you find value; we'll write to you soon!