TABLE OF CONTENTS
Earning new customers through your website is possible when setting the right goals and following best practices – let's understand how to direct traffic to your website.
What is website traffic?
It's the process of when strangers land on your website through search engines or directly through references. In a more technical definition, it is the data sent and received by visitors to a website.
In today's digital marketing world, the possibilities of sending traffic to your website are endless; from sending emails to posting on social media, you have enough tools to keep your audience growing.
Why is it essential to send strangers to your website?
Everybody searches for services through Google or other search engines. Your website is the first thing they'll click on to learn about your services, value proposition, and benefits.
Your website is your business's presentation; you must make it easy to read and navigate for a positive experience. You'll be able to send visitors to your additional platforms, like social media accounts, blogs, contact information, etc., to keep growing your audience.
Today, we've prepared ten ways you can easily send traffic to your website. So, let's dive into it!

#1 People are outside the screen
Any business must seek to make those connections in real life.
Go to conferences, meet with other decision-makers, and get to know them – you know, socialize, and we promise it will be worth your time.
It's critical to have connections; you might find people who may refer your business in the future, be interested in your services, or find a pivotal alley to help you overcome challenges.
Another advantage is that you'll have the chance at link building, a subject we'll discuss later in this article.
#2 Send an email campaign or newsletter
Emails are powerful when sent to the right people at the right time. They are still crucial in digital marketing because of their deliverability and mass distribution.
If you build an easy-to-read email newsletter, you can link to your website and cross-promote at the same time – presenting updates, business news, offers, new services, you name it!

#3 Select keywords with high search intent to direct traffic to your website
Keywords are gold for making your business website discoverable on the internet. They are the words and phrases that your customers use to search for services online.
You can research by typing in the Google search bar and looking at the different phrases people use to find similar services.
You may also use the free Google Keyword planner for more accurate information.
The best keywords are the ones that have a high search volume and low competition. So, try and find specific keywords instead of single words.
"Website design for businesses in New Jersey" could be a good example.
When you finish researching your keywords, use them naturally in your website content and blog posts. They will slowly but surely help your website's visibility in the long term.
Can you spot the main keyword of this article?

#4 Post content regularly in your blog
Most businesses add a blog section to their website to regularly keep new content coming in. This effort allows search engines to understand that your website updates often and that your audience is engaging with your content.
A blog allows you to share industry news and educational content, answer frequently asked questions, you name it!
There are several best practices to keep your blog updated and keep your audience interested in your service; for example:
Understand your readers
Define the search intent
Have a straightforward blog post goal
Analyze your competitors
Use your keywords naturally in your text
Map your blog post structure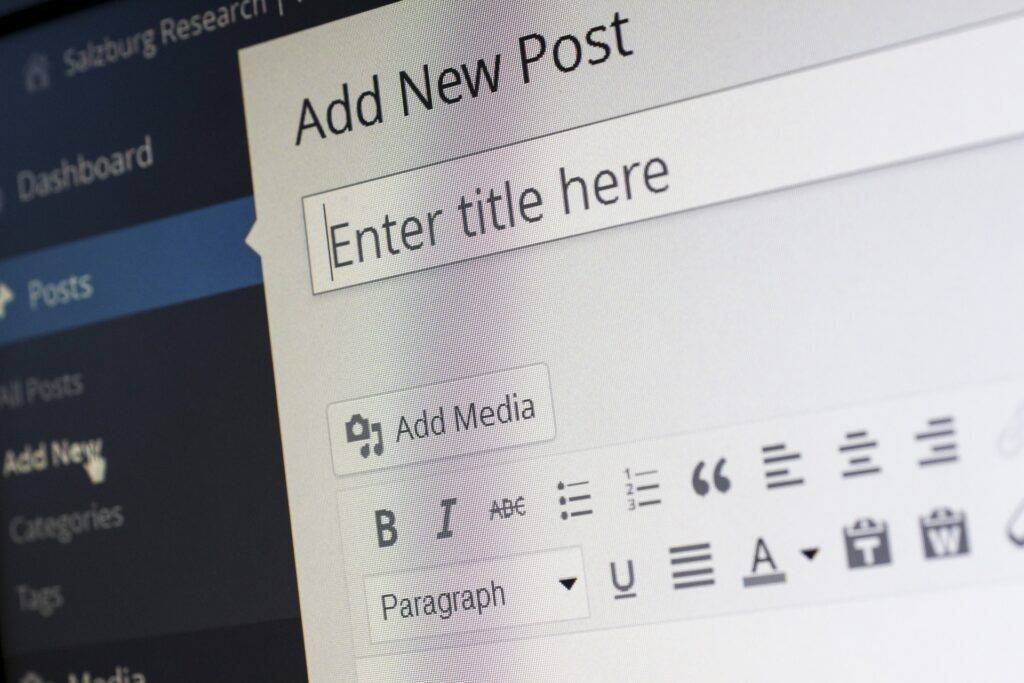 #5 Use website listings
Website listings are a viable solution for users to find specific services fast – they are comprehensive platforms that help users identify, learn, and contact a business.
Here are six benefits of using website listings:
Expand your online presence
Improve your business visibility
Increase discoverability and word of mouth
Strengthen your business reputation
Boost your SEO
Rank better in Google

#6 Host a webinar to direct traffic to your website
Webinars are the ultimate way of closing deals. Once you have a list of potential attendees from people who like your services, you may host a webinar to discuss your offer on a personal level or your service's benefits.
What is a webinar?
It's an online event where a presenter explains a particular subject. You may host a webinar if you are confident that your audience is curious about a topic or if they want to know more about your services and their benefits.
Whatever the case, people will be more likely to visit your website for further references or recommend your services to another person.

#7 Post consistently on your social media channels
Your social media channels are like distribution centers to promote your content. Consider your target audience to help you select the right track for your business.
When you publish regularly, you're allowing your audience to visualize you as a thought leader and help them understand your services.
Social media channels are an excellent opportunity to send traffic to your website.

#8 Write irresistible headlines
What makes a heading irresistible? When you match your services solutions to your customer's context, you may create an eye-catching headline.
Your audience will easily interact with your content – increasing the chance to navigate further into your website.
A rule says that 80% of the people will read your headlines, and only 20% will read the full article. So, consider writing your headings carefully by considering those keywords and phrases. Plus, focus on your audience's search intent.

#9 Aim for an easy navigation experience
Whenever people visit a website, they aim to skim through the content fast and find the information they need.
If your website visitors enjoy your content and find it helpful, it's more likely to get referred.
Make sure you have clear CTAs (Calls to Action) to ensure they understand what they need to do to contact you or what to do next.

#10 Plan a link-building strategy
Finally, we have link building. Again, like the first recommendation in this article, you have to find connections that would want to link to your website, and you also have to link to other sources.
Why? Search engines will consider how much relevance you have in the digital world. That relevance is defined by how many crucial sources link to your website and if your audience engages with your content.
Overall, ensure your website doesn't stay in the depths of the internet. You want people to engage with your content by knowing something about your business. It's better to have website visitors because they found your website attractive enough to serve their context and not by landing there accidentally.
Let us know if we can help you build a website that looks good but also serves to attract potential customers and increase conversions.
We'll write to you soon!